Introduction
As part of the Master's that I completed at Johns Hopkins within the Center for Bioengineering Innovation and Design, one of the projects I focused on was developing a medical device addressing a global health need. The team of three engineering students I was part of was approached with the problem of identifying and treating women with pre-cancerous cervical lesions in the developing world. We worked closely with Jhpiego who came to the program with an already established low-cost screening method for pre-cancerous lesions. By using widely available acetic acid or vinegar, they could visualize pre-cancerous lesions in the most rural parts of the world at an incredibly low cost. The main problem was once they had identified women with these lesions, how could they effectively treat them at the point-of-care. We set out to design a medical device that would be highly efficacious at treating these patients as well as being robust to the type of conditions it would encounter for a cost that would allow for widespread use in limited resource settings.
Visual Inspection with Acetic Acid (VIA)
Visual Inspection with Acetic Acid (VIA) can provide immediate diagnosis but it needs to be coupled with an appropriate treatment method that can be performed in Rural Health Posts in order to effectively reduce cervical cancer incidence
Costs approximately $0.05 per woman screened
Is performed by a trained nurse or midwife
Provides instant diagnosis of pre-cancerous lesions
Requires only vinegar, cotton swabs, speculum, and a light source (flashlight)
Does NOT require a pathologist; who may not even exist in the country
Proven to be 79-84%2-4 sensitive (Pap Smear is only 51-68%5-7)
No benefit to screening if there is no treatment available because women will not journey to the district hospital to seek follow-up care

Cryotherapy
Cryotherapy has the potential to be coupled with VIA to provide an effective treatment option for precancerous lesions in rural Health Posts around the developing world
Cryotherapy simply freezes the entire surface of the cervix destroying both healthy and pre-cancerous cells; after the therapy only healthy cervical cells regenerate
Can be effectively performed by a trained nurse or midwife (78.0% - 92.6% effective depending on lesion grade and size11)
Very low risk of complications, 1-4% minor complications, <.03% major complications requiring hospital interventions12
Can be performed without anesthesia
Clear indications for cryotherapy:
Lesion covers less than 75% of the cervix
Lesion does not extend into the endocervical canal
No suspicion of invasive cancer
Re-treatment is an option for those lesions which are not treated the first time
CO2 readily available in all developing countries due to the presence of soda companies
Need
"There is a great need to improve cryotherapy methods, especially those based on CO2, for treatment of cervical precancer in resource-poor countries, where electrosurgical removal of the transformation zone is largely unavailable."
Current cryotherapy equipment is not designed for the developing world and is plagued by its 30 year old design which manufacturers are unwilling to update because of a perceived lack of business profitability
Expansion of compressed gas occurs right at the cryoprobe tip cooling the tip surface to between -56oC (with CO2) and -69oC (with N2O)
Equipment was designed over 30 years ago for use with N2O in the developed world
When used with CO2 there is a high chance of blockages due to moisture and particulate clogging up the fine internal tubing, resulting in warmer tip temperatures reducing the efficacy of the treatment Not considered durable and repair knowledge in the field is minimal
Costs approximately $2000, additional cryotips (which are prone to corrosion during disinfection) cost roughly $300
Inefficient with CO2, a single 50lb tank can only treat 10 women
Difficult to transport a 50lb tank to the rural health posts where the technology is most needed

CryoPop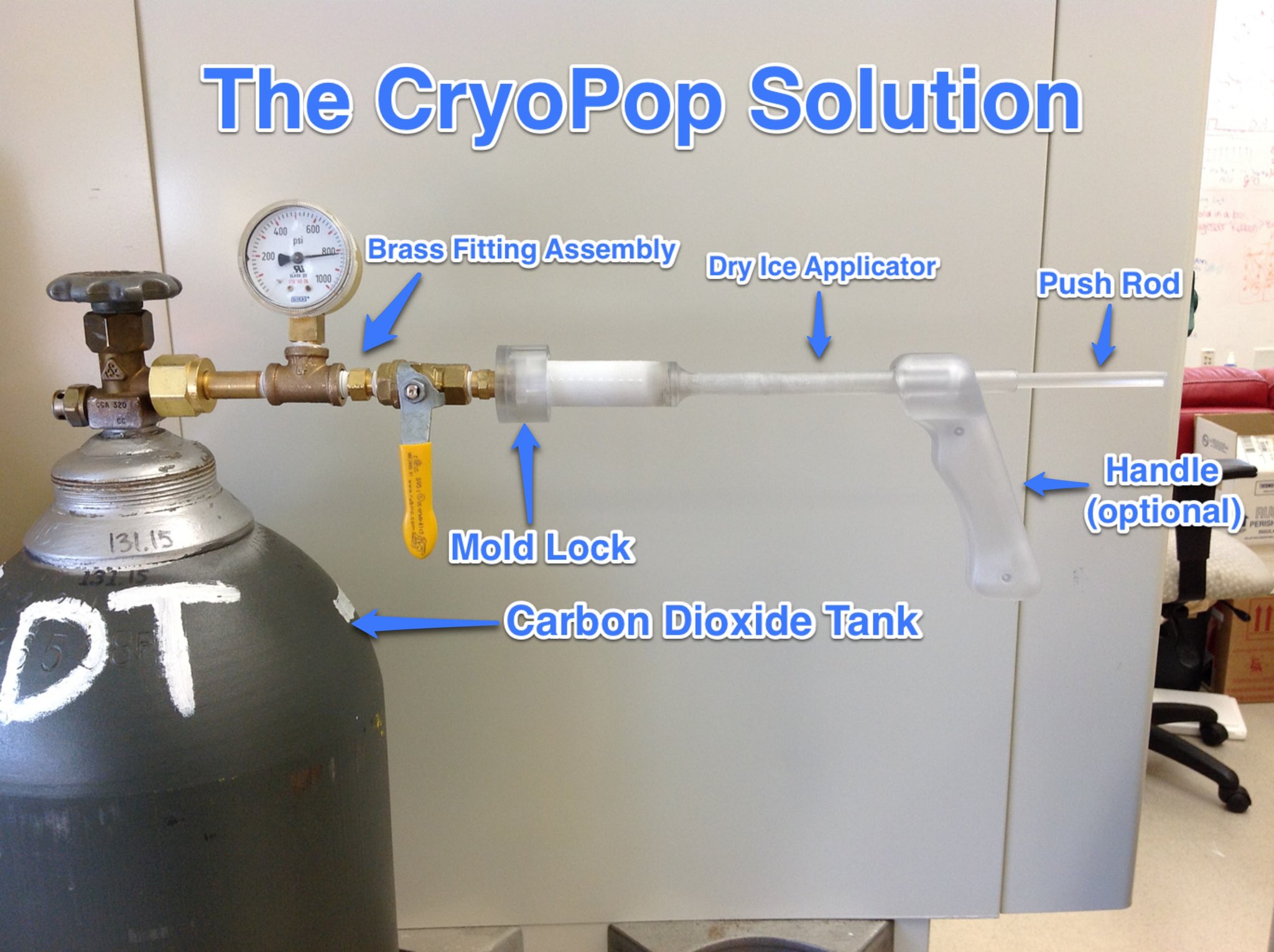 Capitalizes on the liquid portion of the CO2 within the pressurized cylinder to create dry ice consistently and efficiently.
Expansion of liquid CO2 creates dry-ice (always at -78oC when it is ice) - video below
Reduced variability in tip temperature, user can tell if there is no dry ice
Assembly of only 4 primary injection molded components and 3 standard brass fittings
Easily disassembled and sterilized or disinfected (HLD) in chlorine
Expected selling price of $200
No disposables or expensive corrosion prone tips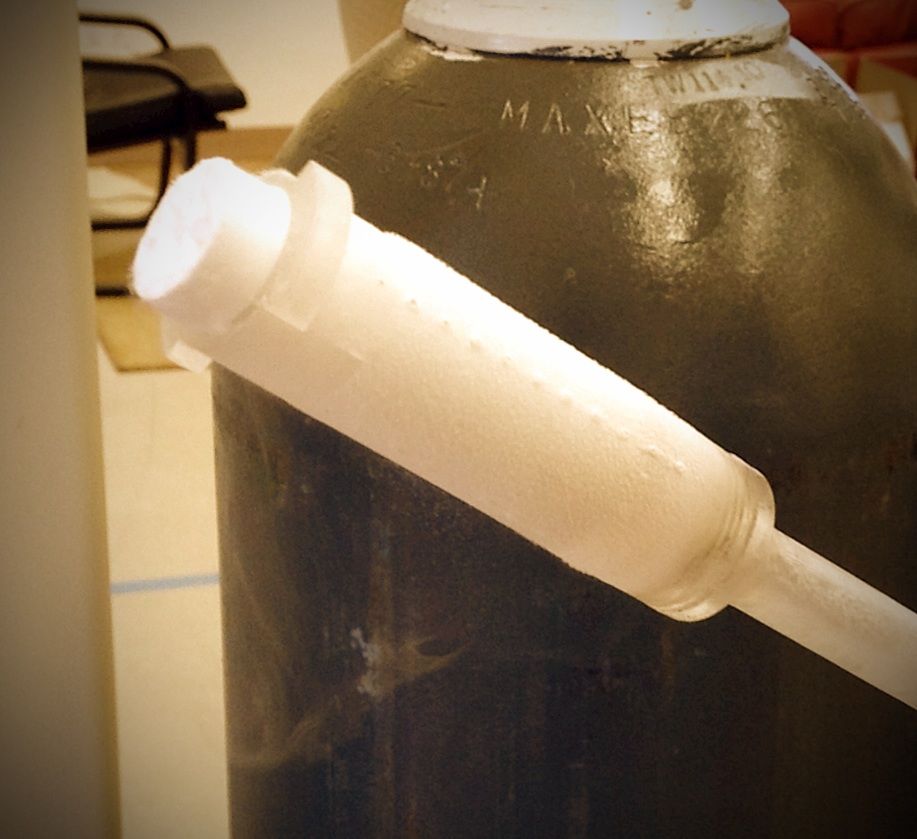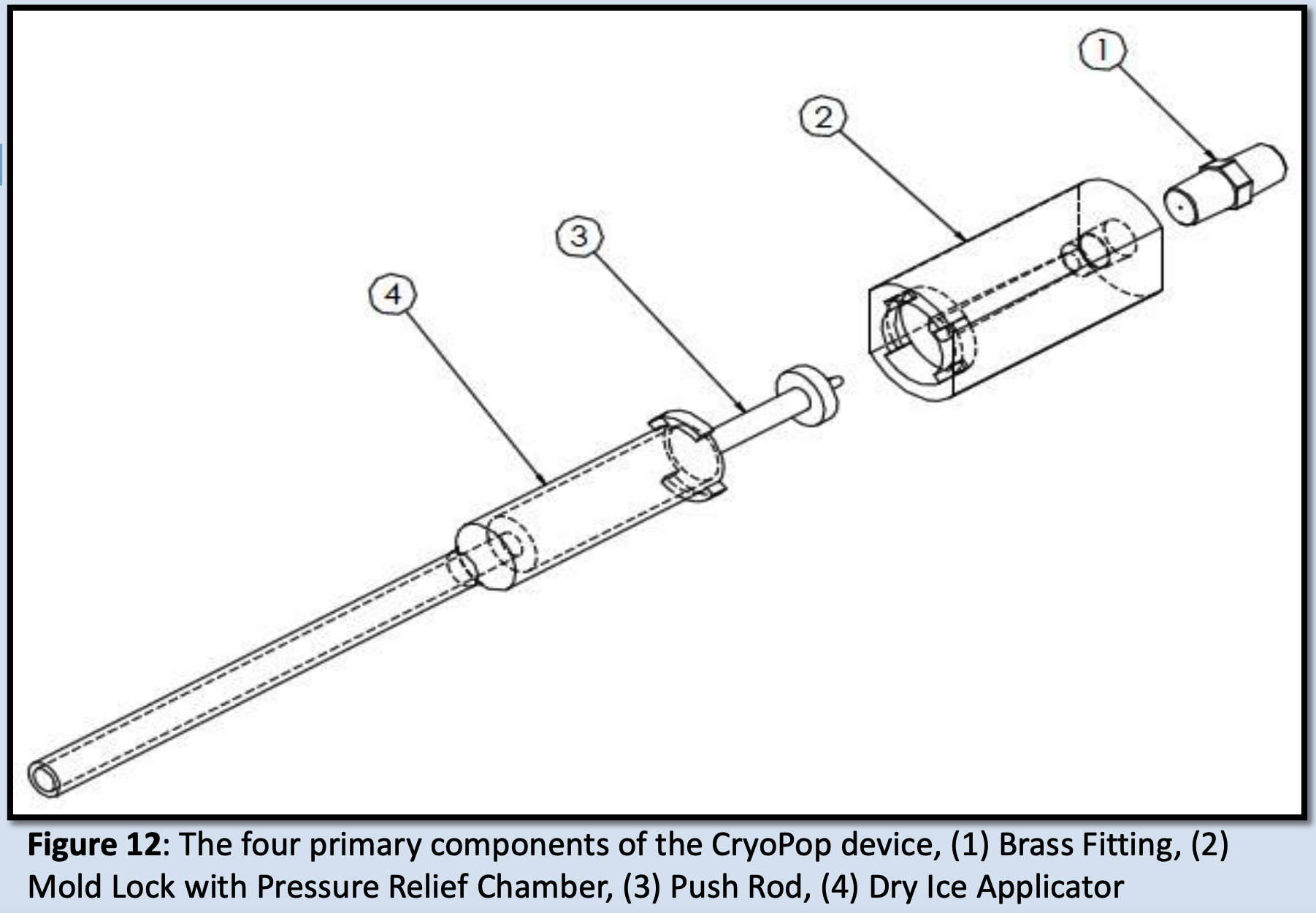 Testing
By the time we had graduate, the CryoPop had been tested on the bench and in animals to show that it is at least as effective as the current standard of care and it is also safe for both the patient and the user.
Bench Performance Testing
Compared the CryoPop against the Wallach LL100 using a similar test setup to the protocol of Seamans et al. in 2007 to evaluate the effect of the "cough technique"
Turkey breast cut to 30mmx30mmx15mm and thermocouple implanted 5mm deep
Bench Fill Testing
A single 5lb tank can produce enough dry ice to ablate 30 patients (360g)
Designed the mold lock to enable pressure drop before filling the Dry-Ice Applicator enabling more consistent filling without air pockets
Found that additional compression needs to take place after the filling in order to create the right density of ice (roughly 0.9g/cm3)
Animal Testing
Performed cryoablation on 6 goat cervixes: 3 with the Wallach LL100 and 3 with the CryoPop
Goats were old and their cervixes had begun to recede similar to post-menopausal women
Gross pathology is hard to interpret but appears to be comparable between the two devices
Histology revealed no necrosis, only edema; need to wait longer than 24hrs before harvest to enable necrosis to occur

---
Since graduating from the Center for Bioengineering Innovation and Design, the CryoPop has continued to be developed by Jhpiego and notably by Marton Varady who joined Jhpiego as a full-time employee to push the CryoPop from preliminary concept & prototype to the commercially available medical device it is today. The CryoPop has been issued a patent from the USPTO, completed its first clinical trial (NCT02367625), is currently enrolling in its second one (NCT04154644) to demonstrate efficacy, and is commercially available for clinical use through Pregna International Ltd.
Reflection
"I've failed over and over and over again in my life. And that is why I succeed." - Michael Jordan
Every time I have embarked on the journey of trying to solve a problem, it has always been with the hope and dream of seeing the countless hours dedicated to the project result in something that will actually make a difference in the world. Unfortunately, the reality of this process is that it is often a high-risk, low-yield endeavor with many ideas not ever seeing the light of day. That being said, the CryoPop was by far the most successful project I have been part of to date, and I would like to think all prior ideas that came short prepared me to succeed in tackling this problem.
---
Memories
Enjoy these photos taken over the course of the year as the CryoPop moved from idea to prototype (not in chronological order).